Good Morning and Happy Tuesday!!!

Thank you so much to everyone who participated in the No Gain Campaign this year!! I am so impressed by what we accomplished!! It is amazing that so many of us lost over the holidays this year! I feel great, how do you feel??? Even if you did not lose weight, were you more mindful of what you were putting in your body? Did you think about your health and make choices based on how you wanted to feel and not just let the sugar monster take over and tell you what to do? I know I did and that made all the difference in the world for me. I did not stuff myself, I ate reasonably, and that is a major win!! I also ended the holidays a few pounds lower, so that means 2018 is off to a great start and it will just keep getting better!!! :)
I calculated the percentage of weight loss (like they always did on the TV show The Biggest Loser) for everyone who participated in the NGC. The top four biggest winners were Sue losing 4.58%, Wendy - number two - losing 4.41%. Maci lost 4.33% and Emily was number four losing 3.21%. It is pretty significant to lose weight like this over the holidays!! Thank you to everyone who participated! Thank you for taking your health so seriously over the holidays! It is amazing and it is what MLBBC is all about!


​
The No Gain Campaign is over for this year, and I promised to give away a Free Month of boot camp to one of us who did not gain - the winner of the free month is Retta! Congrats - February is on me!!! :)​

I love you!! Have a super week!!!! Thanks for reading! Em



TThe amazing power of exercise...
Have you ever stopped to really think about exercise? Other than the well known health benefits, have you ever stopped to think about the other amazing things about exercise? I think about it every day. Every workout changes me - it changes my mood, my motivation, my energy, and my overall attitude.

Think about how you feel after exercising. Every workout has an immediate impact on your energy, mood, body chemistry, and even mental functioning. The endorphins released are specifically designed to make you feel good, and all of these factors combined create your overall feeling of wellbeing. This confirms to me that our bodies were meant to move. Why else would chemicals that make us feel better be released when you are doing it???
Don't you want to feel good? I know that I do!
So why doesn't everyone workout every single day?? The tricky part is that most of us are habit driven, and so our activity level (or lack thereof) is fairly consistent day-to-day and week-to-week. This makes the impact of a non-workout day day less noticeable, since another similar day causes no obvious change. But string too many non-workout days together and a different state of low energy slowly takes over and become a new norm. You don't realize that you don't feel amazing - you think this is just how you feel.
Why does this matter? You could begin feeling a lot better not just physically but also mentally, IMMEDIATELY! By simply exercising, moving, changing the position that your body is in right now, and doing something will make you feel better.
Does this come as a surprise? Do you believe that the way you feel today is not that bad or something that cannot be improved?
By maintaining a consistent, challenging exercise plan:
Your aches and pains can disappear.

You can feel light and your energy levels can soar.

Your mood can naturally become more optimistic.

You can avoid illness and disease.

You can think and process information quicker and with more clarity.
And then, once you're in the groove of exercising regularly, you'll forget about the pain, the sluggishness, and the discomfort that you used to live with. You won't believe how much better you can feel. Making regular exercise part of your routine (a habit) is a foolproof method for improving your overall wellbeing. It's a gift that you give to yourself with each workout.
Ready to really feel great? Become a member of MyLeanBody Boot Camp and you will feel amazing! Call or email today to get started
Simple Roasted Vegetables
Vegetables are an important part of a healthy, balanced diet. You won't find a recipe that as simple and delicious as this one for roasted vegetables. It's a classic!
I like to leave the root veggies undisturbed when adding the green beans, so that they have one really nicely charred side to them at the end of the cook time. The onions become mouthwateringly tender.
Feel free to use other veggies, such as sweet potato, beets, cauliflower, broccoli and bell peppers.
Courtesy of RealHealthyRecipes.com
Servings: 6
Here's what you need
3 parsnips, peeled and cut into large chunks
8 large carrots, peeled and cut into large chunks
1 red onion, cut into thick wedges
​Cooking spray

​1 teaspoon rosemary

​Salt and pepper

1 teaspoon thyme

½ pound green beans, trimmed
Instructions
​Preheat the oven to 425 degrees F. Lightly spray a rimmed baking sheet with non-stick cooking spray.

​Arrange parsnips, carrots, and onions on the prepared baking sheet in a single layer and mist with cooking spray. Generously season with the herbs, salt, and pepper. Roast in the preheated oven for 30 minutes.

​After 30 minutes, add the green beans on top of the roasting veggies and place back in the oven for an additional 15 minutes. Mix the veggies together and serve. Enjoy

Nutritional Analysis
One serving equals: 95 calories, 3g fat, 18g carbohydrate, 7g sugar, 138mg sodium, 5g fiber, and 2g protein.
Spread the word. Use the "refer a friend" link below to forward this newsletter to your friends, family, and coworkers.
MyLeanBody Boot Camp Team
Emily, Ashley, Kim B, Christy, Kim C, and Becky
Weekly Class Times:
5:15 and 6:00 AM - Monday thru Friday
9:30 AM - Monday, Wednesday, Friday

4:30 PM - Monday & Wednesday ONLY
5:30 PM - Monday thru Thursday
7:15 and 8:00 AM - Saturdays

MyLeanBody Boot Camp
403 Bronco Dr. Unit 2
Bloomington IL, 61704
309-540-9637
MyLeanBody Boot Camp

It is time to celebrate MLBBC's 8th Birthday!!!!
MLBBC is turning 8 on February 1st. Make sure you come help celebrate all week long! There will be prizes fun workouts all week - January 29th thru February 3rd. Also plan to bring a friend any time that week to join in on all the excitement.

Have you been thinking about trying MLBBC or coming back to class? This is a great chance to come see what it is all about!! If you already love boot camp, bring a friend this week and let them see why it is the strongest, most positive and motivating place to workout in town!
Friday, February 2nd at 5:30 PM will be our birthday party family fun workout. Bring your kiddos for a super fun, kid friendly workout! What an exciting way to spend a cold Friday evening!! Dads and extra helpers are welcome too!​
​
---
Winter Weather Things to Know
With winter weather comes wet, snowy, and salty shoes. When possible, please wear different shoes and change into your gym shoes when you get to the gym. The gym floor gets very slippery when it gets wet, so please help keep us safe and dry. Thanks so much!​​​

---
Because winter can bring dangerous road conditions, we want everyone to stay safe. Usually if Unit 5 cancels for too much snow (not just being cold) we will cancel. But we will post in the MLBBC Facebook group and send out an email if we are cancelling classes due to the weather, so please check both before you venture out. ​​​​With winter weather comes wet, snowy, and salty shoes. When possible, please wear different shoes and change into your gym shoes when you get to the gym. The gym floor gets very slippery when it gets wet, so please help keep us safe and dry. Thanks so much!​​​
---
I am super excited!! I found MegaFit meals a while back but did not think too much about it... that is until I have heard so many of you talking about needing help meal prepping! I talked to Meg at the corporate office and she set us up with a 10% off coupon code!! Use MLBBC10 when you order.
Meal prep seems to be the hardest part of consistently eating healthy. It takes time, planning, and energy every single week to get it done. All that on top of an already busy schedule and so many other things (and other people) to take care of, I get it that you don't have time. MegaFit meals can help!!! Here is what I like about them:
​The meals are REAL FOOD and they don't use any preservatives.
​They are made with simple ingredients.
​They deliver the meals ready to go to your home...or even a hotel. I'm thinking a business trip would be so much better without the worry of what you are going to eat for every meal.
​They last for four days in the fridge and 30 days frozen, then heat in the microwave for a minute or two.
​The best part is that they are SO easy to fit into your day and they are economical!
​Depending on the meal you choose, your goals and your macros one meal can be divided into a meal and a snack or two meals. And they are the perfect size for your husband or any other man in your life.
I have recommendations for you at the gym of which meals to try and what the macros are for each meal. And be sure so use the discount code MLBBC10 so that you save 10%!!!! Love you!!! Em.
MyLeanBody Boot Camp Took My New Lifestyle To The Next Level!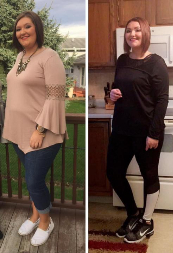 In May of 2016, at 19 years old, I was the heaviest I've ever been. I began to realize I didn't want to live my life like this any more as I became concerned about my health and what the extra weight would mean for my future. After talking to my doctor, trying different dieting programs, and even trying 'diet pills', nothing seemed to work so I gave up once again.

Then in January of 2017 my mom was diagnosed with high blood pressure. She needed to make some big changes to her diet in order to help get it under control. Realizing what all my mom was going through, I knew if I didn't change my lifestyle and get control of my weight now, high blood pressure could likely be a part of my future too.
By February 2017 my whole family was making changes to their diets in order to support my mom. I started seeing some weight come off but not much. At the end of March I started working out at MyLeanBody Boot Camp and knew it is what I needed to to take my nutrition and exercise to the next level. Along with incredible workouts, Emily helped me understand nutrition and how to eat healthy so that it was easier for me to stay away from junk food and other things that were keeping me from losing. I am now at the lowest weight I have ever been, and the best part is that my clothes are all too big!!
Everyone is so encouraging and supportive that I look forward to coming to boot camp every week! It is an amazing place and I am so thankful I found MyLeanBody Boot Camp! Love Maci